Living in Ajax
Ajax has many attractive attributes including the largest waterfront parkland in the Greater Toronto Area, a diverse housing stock, excellent public transit, a large regional shopping centre, and easy access to Highway 401 which runs through the centre of town. Downtown Ajax centred at Harwood Avenue and Bayly Street is presently being revitalized with the addition of a new 30,000 square foot Central Library which is being built adjacent to the Ajax Town Hall. A new Civic Square will also be constructed next to the library.
The Town of Ajax is home to over 70,000 residents. Major employers include: Ajax Textile, AEG Bayly Engineering, Daimler- Chrysler Canada, Dupont Paintplas, and Volkswagen Canada. The Durham Centre Shopping Complex and the Rouge Valley Ajax and Pickering Health Centre are also major employers in this town.
History of Ajax
Ajax was a collection of small settlements and farms until 1941, when Defence Industries Limited (DIL), set up a munitions plant here. DIL was said to be the largest military manufacturing facility operating in North America during World War ll. This massive war plant spanned almost 3,000 acres, and at its peak employed over 9,000 people. The infrastructure needed to operate DIL, led to the first school, roads, and water and sewage treatment plants in Ajax.
When the post office was opened this company town needed a name. The name Ajax was selected from a competition among DIL employees, in honour of the famous British warship the HMS Ajax. Many of the streets in Ajax, are named in honour of those who served on the HMS Ajax. After the war, many former DIL buildings were leased to the University of Toronto Engineering School, and a new population base was added to the area. In 1949, Dowty Aerospace began operations in Ajax, and soon more industry would follow. Ajax would continue to prosper, and this led to its incorporation as a Town in 1955.
In 1974, the Town Of Ajax, and parts of the Township of Pickering amalgamated. In an interesting twist, the historic Pickering Village situated at Church Street and Kingston Road, was amalgamated by the Town of Ajax, and not by the neighbouring City of Pickering.
Homes in Ajax
Ajax has a large amount of executive housing located along its waterfront. The houses on Lake Driveway enjoy spectacular waterfront views. The landmark Breakers condominiums at the west end of Lake Driveway includes many suites with waterfront exposures. As you travel north through downtown Ajax you will find a large selection of townhouses and apartment buildings, built during the 1970s and 80s.
In the middle of Ajax you will come upon 'Veterans Villages' that date back to the 1940s. The style of house found here is referred to as 'Victory Houses'. These simple but functional houses were built during the 1940s, by the government of Canada to provide affordable housing for workers employed at military manufacturing plants. Ajax has the largest number of Victory Houses in the Greater Toronto Area. This is not surprising when you consider the contribution the Town of Ajax made to the war effort.
North of Highway 2, Ajax is still a predominantly rural town, however this is quickly changing as new home subdivisions seem to be popping up everywhere in the expansive open spaces of the countryside. Pickering Village, centred at Church Street and Kingston Road, contains a sizeable collection of well preserved heritage homes that date back to the mid 1800s.
Lifestyle in Ajax
The downtown Ajax shopping district situated along Harwood Avenue, south of Highway 401, has a pretty tree-lined boulevard in the middle of the street. Ajax Plaza, located in the centre of this shopping district will see improvements to the existing building, as well as upgrades to the plaza's parking, lighting, walkways and landscaping. Not to be outdone the Harwood Place Mall (also known as the Hardwood Shopping Centre) adjacent to Ajax Plaza, will undergo an ambitious retrofit that will enable every store to have a street entrance. The addition of four new buildings for this shopping centre is also planned. Small shopping plazas, as well as fast food restaurants and car dealerships line Bayly Street between Harwood Avenue and Westney Road. The Rio Can Durham Centre located off Harwood Avenue, just north of Highway 401, is another popular shopping destination.
The Durham Centre shopping complex located at Harwood Avenue and Highway 2, is a regional shopping destination featuring big name retailers including: Canadian Tire, Costco, Home Depot, Loblaws Wal-Mart and Zellers.
The Pickering Village shopping district tucked away on Old Kingston Road features many interesting antique shops, and quaint restaurants.
Recreation in Ajax
The crown jewel of Ajax is its waterfront trail and parks. The 6 kilometre waterfront trail is paved and is popular with cyclists and joggers. This Waterfront Trail hooks-up with the Duffins Creek Trail system at the west end of Ajax and the Carruthers Creek Trail system at the east end of Ajax. The Greenwood Conservation Area located at the north end of town, off Westney Road is popular with hikers, and bird watchers, and includes picnic sites and camping grounds.
Ajax has three community centres.The Ajax Community Centre located at 75 Centennial Road features the "Higher Ground", which is considered one of the best rock climbing facilities in the Greater Toronto Area. This centre also has an indoor pool, four ice rinks, fitness facilities, and squash courts. The McLean Community Centre located at 95 Magill Drive, has an indoor pool, a fitness area, community meeting rooms, and a library. Village Community Centre on Church Street, is a small centre with an ice rink.
Ajax has four public golf courses including: Annandale Golf and Curling Club located at Bayly and Church Street South, Carruthers Creek Golf Course at 650 Lake Ridge Road, Fox Run Golf Centre at 560 Taunton Road West, and Hawthorne Village Golf Course at 3470 Salem Road.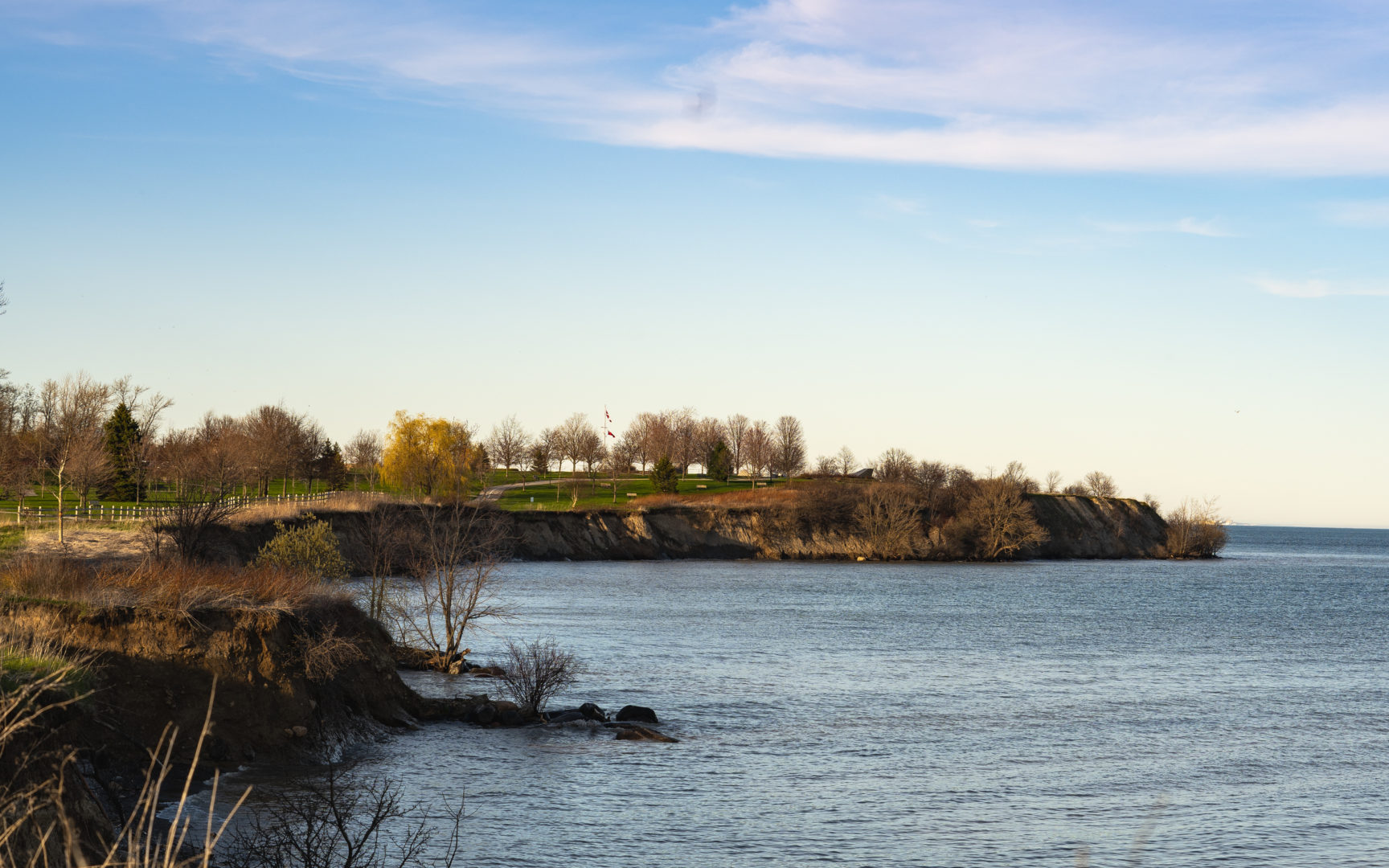 Arts in Ajax
The Town of Ajax sponsors numerous special events throughout the year including the popular Music and Theatre in the Park series held every summer at Rotary Park. The biggest Ajax event is Home Week, which takes place in June. This week long festival starts with a parade down Harwood Avenue and includes a myriad of events for the whole family. Home Week is capped off by a fireworks display at Rotary Park on the waterfront. The Picov Down Racetrack off Kingston Road, features seasonal quarter horse racing. Plans are underway to convert this facility into a multi-purpose entertainment centre that would include a viewing stadium, oval track, restaurants, and slot machines.
Transportation in Ajax
The Ajax Pickering Transit Authority operates eight regularly scheduled bus routes in Ajax, plus four school bus routes that operate during the school year only. All Ajax bus routes connect to the Ajax Go Station located at 100 Westney Road South. The Go Train ride to downtown Toronto's Union Station takes approximately 45 minutes.
For motorists Highway 401 on-ramps are easily accessed just north of downtown Ajax off Westney Road, and off Harwood Avenue. The drive to the northeast part of Toronto along Highway 401, takes approximately 20 minutes.